There are many options to for resurfacing your pool.  Here's a guide to understanding the the different approaches we offer:
Traditional Plaster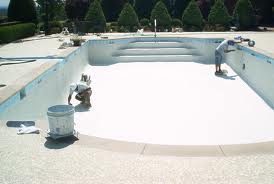 Pool plaster has been used as a swimming pool surface coating for the past 50 years. There is no other pool surface on the market with this time tested history. Factoring in the long lifespan of plaster, it is the most economical option for your swimming pool's interior surface, and thus a real value for your investment.
White plaster is the oldest and most common pool finish. White Portland cement and marble sand are combined with water to create the plaster for the pool's interior. When you think of pool plaster, you normally think of the smooth, white plaster surface that turns sparkling blue when filled with water, but there are actually many choices that can be made. Pool & Patio in Overland Park, KS offers many different colors that can be applied with plaster to make a more colorful pool surface.
A new plaster surface will give 8 to 20 years of good service.
Quartz Aggregate Pool Finish (Diamond Brite)
The Quartz aggregate swimming pool finish is a hard, non porous, stain-resistant material-quartz that is mixed with white Portland and polymers. This is also a skid resistant pool finish. The surface is even longer lasting than plaster alone. Another reason for the popularity of quartz aggregate surfaces is the variety of colors that can be chosen from. The price point for Quartz Aggregate Surfaces is priced higher than traditional plaster.
Pebble Tec Aggregate Finish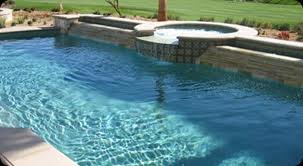 A Pebble Tec pool interior pool finish is a plaster surface with pebble aggregate mixed in. The pebbles actually comprise the majority of the surface of the pool, with obvious advantages:
It is the most stain resistant and most durable surface available. There is a vast array of different interesting color choices which will produce many water colors. The pebble finish can be reminiscent of a mountain stream or lake bed. The product is natural, durable and stain resistant. This surface is slightly bumpy and is a non-skid surface. Its unique characteristics allow a pool to blend with landscaping and water features.
Pebble Tec® superior quality pool finishes offer the type of unlimited design opportunities including waterfalls, boulders and beach entries that will elevate your vision of a swimming pool to new levels of value, tranquility and beauty.
Pebble surfaces are more costly than traditional plaster. You can expect a new pebble surface to give you up to 20 years of good service.
Swimming Pool Paint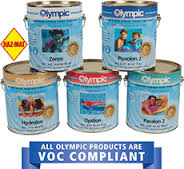 The least expensive, but not the best option for resurfacing your swimming pool is swimming pool paint. If plastering is not in the budget, the step down is to use epoxy paint. The key with any pool resurfacing is in the preparation of the interior, and this is especially true when using paint. Pool & Patio in Overland Park, KS is able to prep the pool and apply the epoxy paint to the interior of the pool. Many times, the pool interior will need to be sand or water blasted prior
to painting in order for the paint to adhere properly. Swimming pool paints come in colors, usually white and blues are the most popular. One of the disadvantages of paint is that it fades. Other disadvantages include possible bubbling and peeling. The service life of Epoxy Paint is probably an average of 5 years.